| | |
| --- | --- |
| | BELGIAN ORTHOPAEDIC TRAUMA ASSOCIATION |
BOTA Casuistic Joint meetings
---
Upcoming CASUISTIC JOINT MEETINGS
28 October 2021 at 20h00
Virtual Meeting
Topic: Complex Trauma Cases
Organizers: Wim Vandesande, Thierry De Baets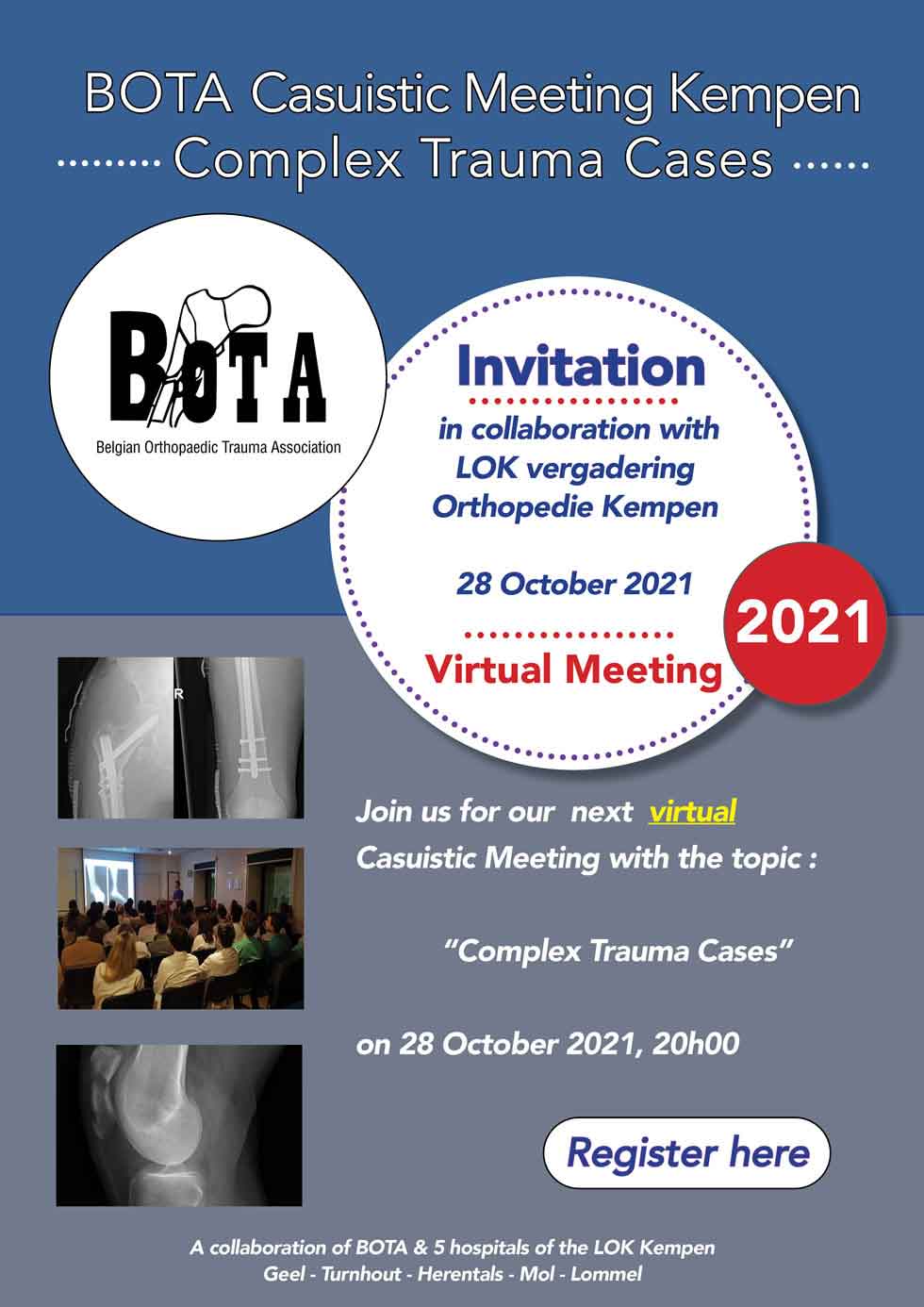 ---
Guidelines for Casuistic Joint Meetings
Scope:
Teaching the management of orthopaedic trauma through case-discussions in Belgium
Submission:
Submission at and approval by the BOTA board. Published at our website.
Responsible person:
chairperson who is a BOTA member/ can delegates tasks
Subject: Cases
Proposed by the chairperson ( ex. lower limb, upper limb ..)
Primary cases – fracture care
- Complications in fracture care (e.g. non-unions, soft tissue lesions) (optional, depending on each site's preference)
Type of meeting:
Case discussion session.
Cases submitted to the chairperson by the participants 6 weeks prior to the meeting. The participant should have been actively involved in the case management and still have unanswered questions about: strategy, indication of treatment, timing, , surgical technique, reduction and osteosynthesis, aftercare
Duration (recommended, depending on each site and number of cases):
3 hours (2 sessions), with a break of 20 min - snack
Suggestion: More than 3 hours seems to be to much regarding the concentration capacity of the participants
Timetable:
Brief individual introduction of each participant – faculty, BOTA members, staff and assistants – 10min
Introduction – 3 min
BOTA Presentation - activity, updates, including joint meetings in other departments and the annual BOTA meeting – 5min
2 session 65min each, 20min break
Participants:
Assistants from the host orthopaedic and trauma department
Senior orthopaedic surgeons from the host clinic
BOTA representatives
Moderators – at least 2
(1 / session of 65 minutes) to enhance the interest of the participants, to avoid monotony, promote sharing multiple perspectives
Experienced orthopaedic and trauma surgeons with teaching experience (at least one BOTA member).
Required skills and behaviours of the ideal facilitator
Explain to the participants the meeting agenda and methodology, insist on the active role of each participant during the session
Well study and prepare in advance the cases, lead the discussion into the desired direction, to ensure that all cases are presented and discussed in their entirety.
Have excellent facilitating skills. Do not talk much, listen with interest, put the right questions, involve participants into discussion.
Maintain a respectful environment so that each participant can speak at a time and have the chance to speak, express his opinion, be actively involved during the session.
Must give positive feedback to the participants, thank the participants for their contribution to the discussion, take into account every idea, even unusual (the source of progress?)
Must respect the time allocated for each case, in that way that every participant has the occasion to present and discuss his own case
Must summarize the key learning points at the end of each case.
Do not:
Do not give a mini-lecture. This is a discussion based, interactive session.
The opportunity to present / hear lectures is during the BOTA annual meeting
Do not be the centre of attention
Do not take decisions for the group
Do not set himself up as an authority (which will discourage the participants to discuss, to express their own opinions
Evaluation of the teaching activity:
(1/session of 65 minutes) to enhance the interest of the participants, to avoid monotony, promote sharing multiple perspectives
All the cases will be submitted to the participants before and after the session, with one question/case to be answered (multiple choice questions).A comparison of the before/after responses will be done by the organiser of the session, to allow the assessment of the impact of the respective session. The results can be shared with the participants